Serene Contours Collection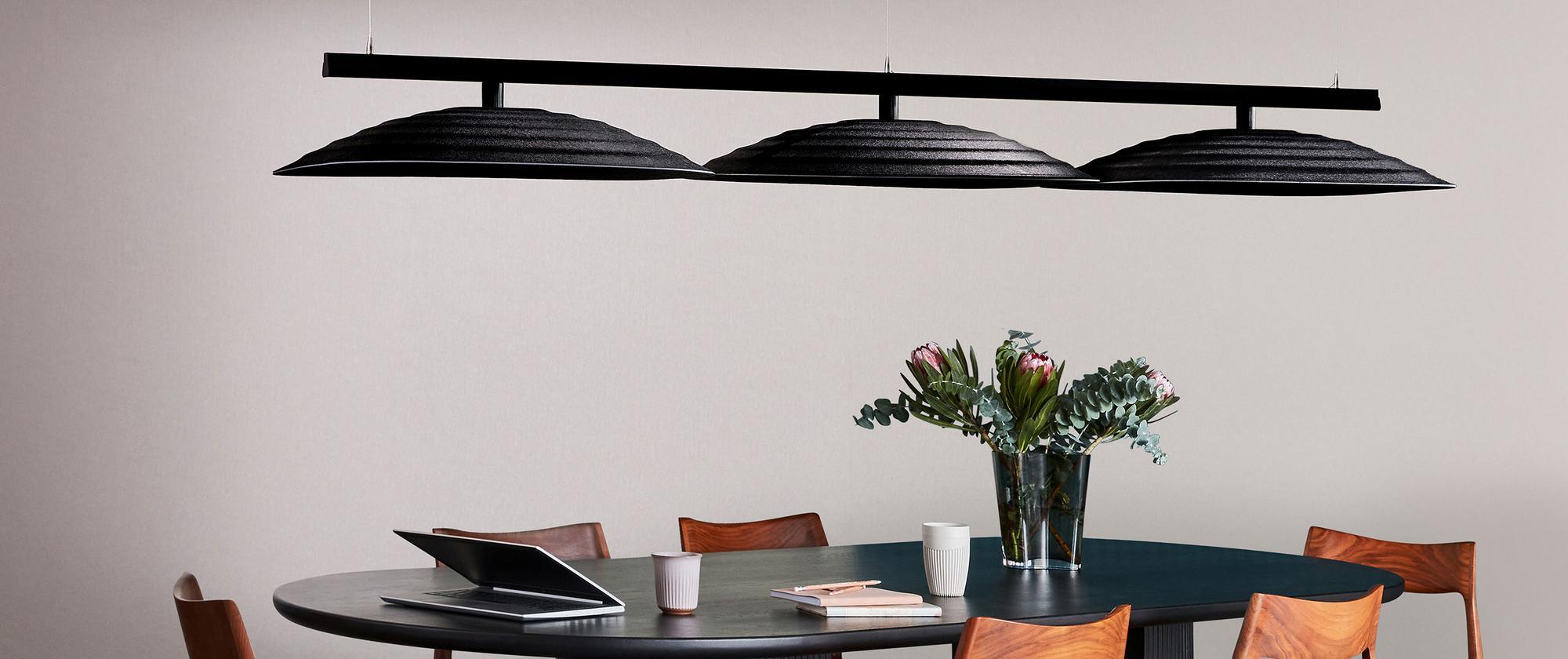 Acoustic solutions for the ever-evolving workplace arrive in this latest launch of design-driven ceilings and wall finishes.
Responding to advances in workplace design, where the cohesion of acoustic function with trending aesthetic grow in necessity, comes the serene contours collection. This collection welcomes the Fuji range of ceiling acoustic tiles; Hachi, Roku, Juni and Ku, two new EchoPanel® precision cuts; Ohm and Palace, including a spliced two colour option, and quilted acoustic fabric Focus Chain.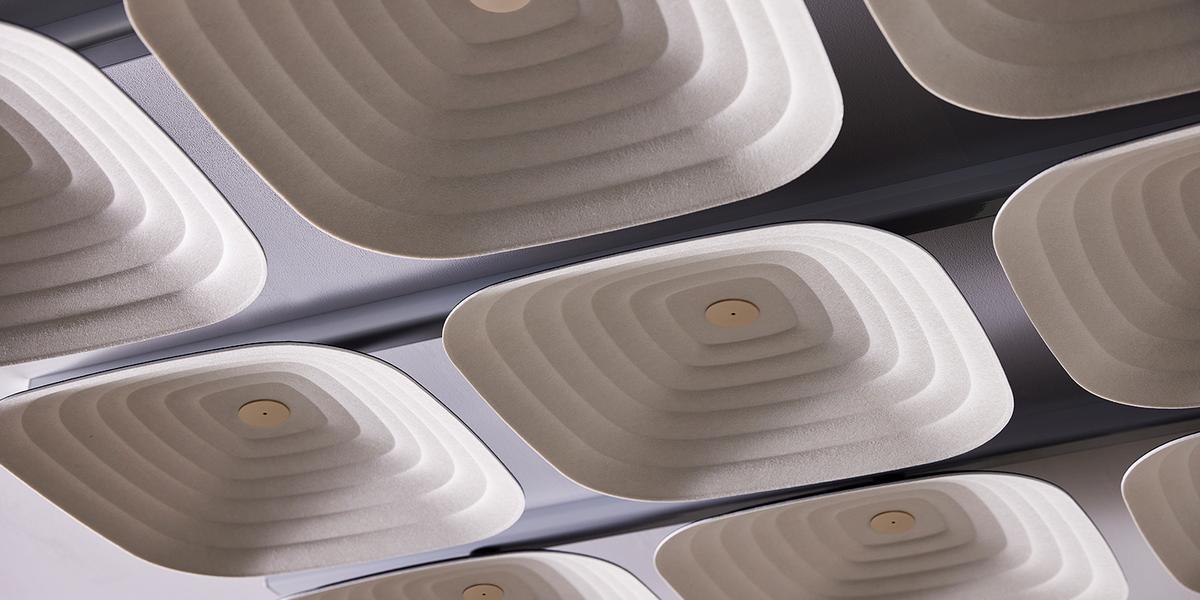 The serene contours collection exhibits linework strongly informed by art deco trends. Fuji tiles are inspired by modern japonisme, borrowing design language from Zen's embossed vertical linework. These reinterpreted lines are paired beautifully with the gentle yet detailed linework of precision cuts Ohm and Palace. With flowing lines showcasing beautiful texture in arcs and waves, these contours add a serene ambience to any room. The art deco influence extends through to Focus Chain, a quilted acoustic fabric alluring to touch. Fuji 3D formed acoustic ceiling tiles support acoustic comfort by reducing ceiling reverberation, proven by a tested high sound absorption rating.
Compatible with our Array ceiling hardware, tiles can be directly fixed to the ceiling or suspending in varying configurations of number, tile size, colourway, barrel kit finishes and suspension height. Making a unique contribution to ceiling aesthetics through their embossed lines, they enhance a whole room, especially with coordinated wall designs.
Fuji Roku is the smallest acoustic tile in the range at 560mm squared. Fuji Juni is a longer rectangular shape and, at 1160mm by 560mm, it combines perfectly with Roku for unique configurations. Fuji Ku is the larger square-shaped tile at 840mm x 840mm with a deeper profile of 132mm. Fuji Hachi is the larger rectangular acoustic tile at 1740mm x 840mm, also with a depth of 132mm.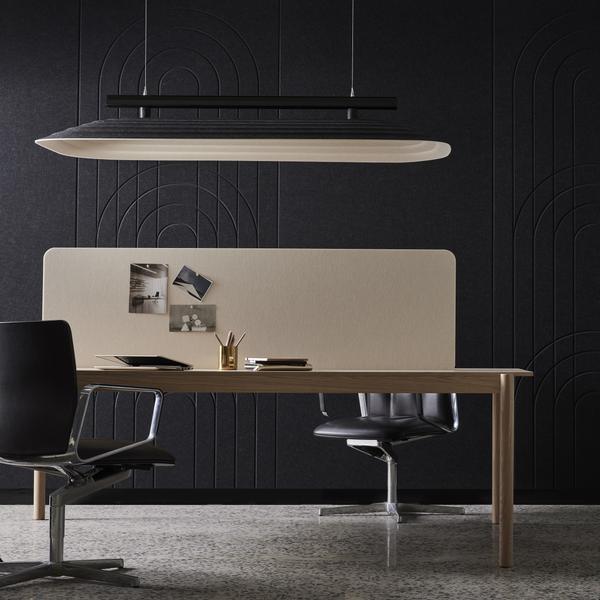 Designed for sound absorption, Fuji tiles can be used for small scale applications, such as suspended over a meeting room table, as well as larger scale acoustic ceiling installations for offices and commercial spaces.
Tiles are each available in four stocked colours: Onyx, Cream, with two dual colours. Dual colourway 299 comprises of duck egg blue underneath and Cream topside, while 420 includes Cream underside and Onyx topside. For more colour options you can also choose any single or dual colour combination from our extensive Mura palette. This colour customisation allows for coordination with other products in the portfolio, including the Embossed and EchoPanel® acoustic panel collections.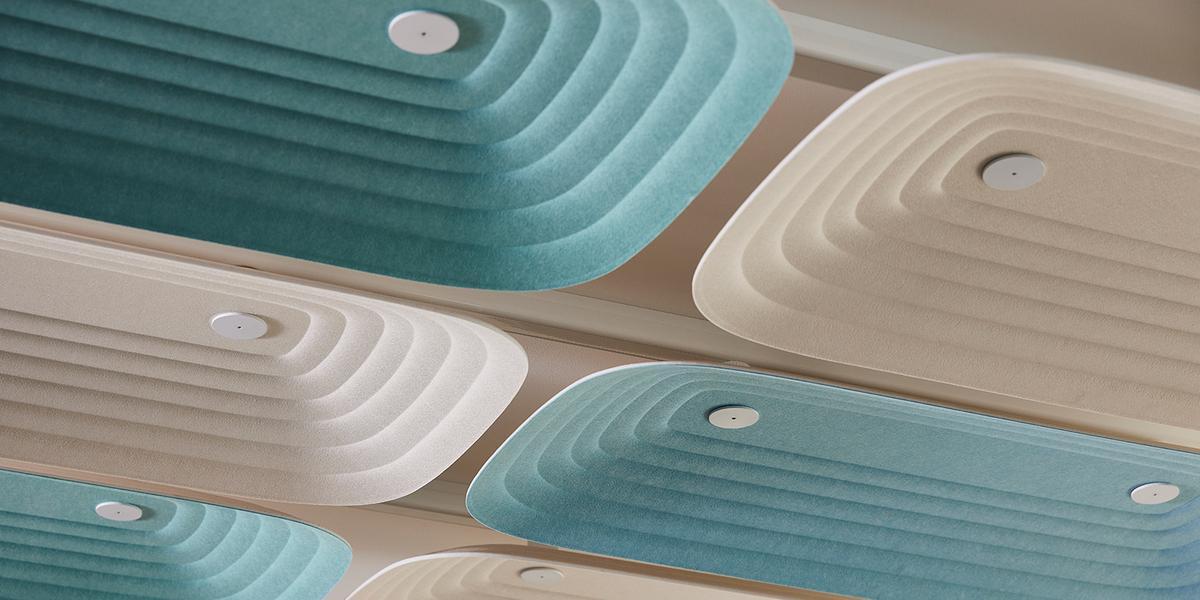 Along with the feature button of the Barrell Kits – which comes in white, onyx and onyx with gold button. The designed barrel kit continues the linework design theme with its textured surface that is also easy-to-grip for a quick install.
Fuji tiles are made using 64% recycled PET and utilising solar energy. Fuji is also Global GreenTag certified (with the maximum GreenRATE level A and Platinum HealthRATE), is Red-List free with ingredient transparency through Declare, and has low VOC emissions.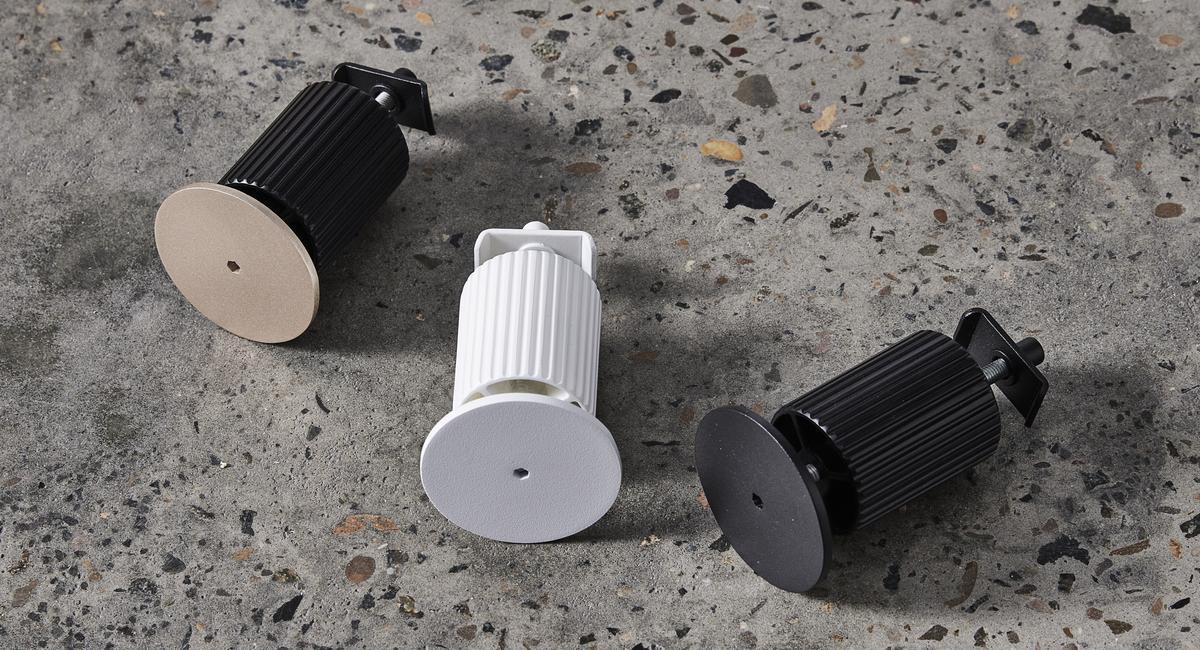 Attention to detail and texture prevails in this precision v-groove cut EchoPanel® Ohm. This acoustic panel design showcases flowing linework which reflects the ebb and flow of sound waves. Featuring a bevelled edge ideal for clean panel-to-panel applications. Sustainably made using 60% post-consumer recycled PET plastic.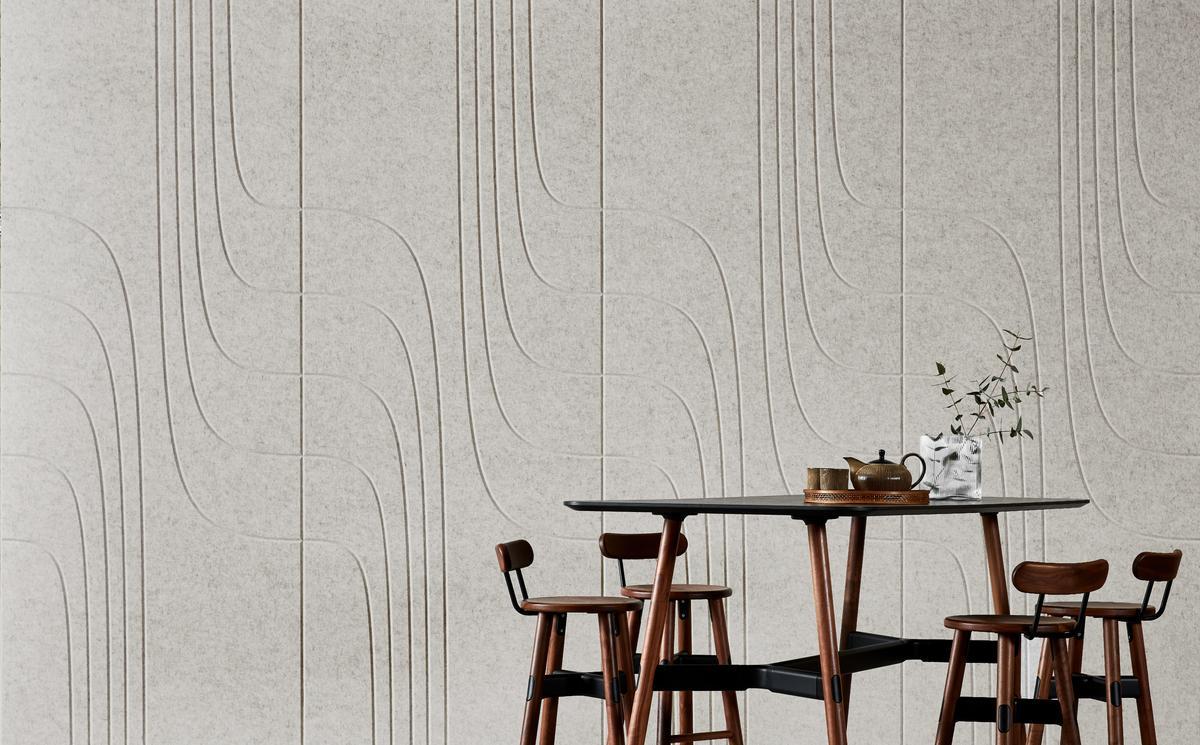 EchoPanel® Palace design reflects the arcs and archways found in architecture and art deco motifs. The gentle linework on this acoustic wall panel induces a serene peaceful effect and its bevelled edge aids panel-to-panel applications. Palace also demonstrates our first ever full panel 'splice' feature, using Mura and EchoPanel in combination to create a feature colour pop for further design opportunities.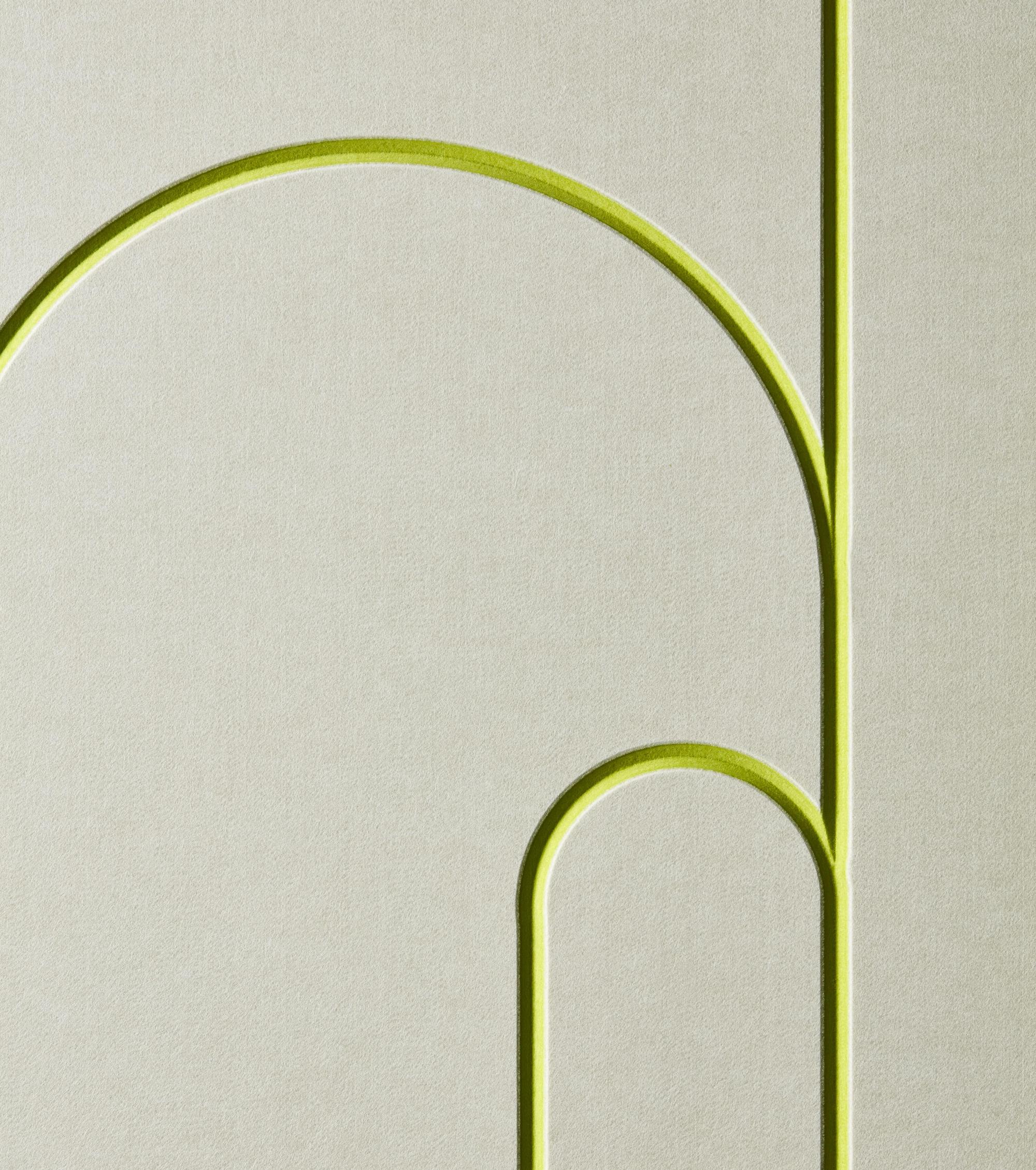 Focus Chain is a design-led multi-functional textile solution suitable for task seating, occasional seating as well as wrapped panels for workstations, pods and room dividers. It graces any room with its beautifully quilted upholstery fabric inspired by a fusion of vertical line-work teamed with an art deco influence. The textured design evokes a calming flow of movement, enticing the user to touch its lofty surface. Like Focus Wave, Focus Chain is an acoustic fabric, boasting sound absorption properties and performing to global commercial textiles standards. Available in 12 contemporary colourways that co-ordinate with other fabrics in the Focus range.