Digital Spirit Collection connects colour and carbon neutrality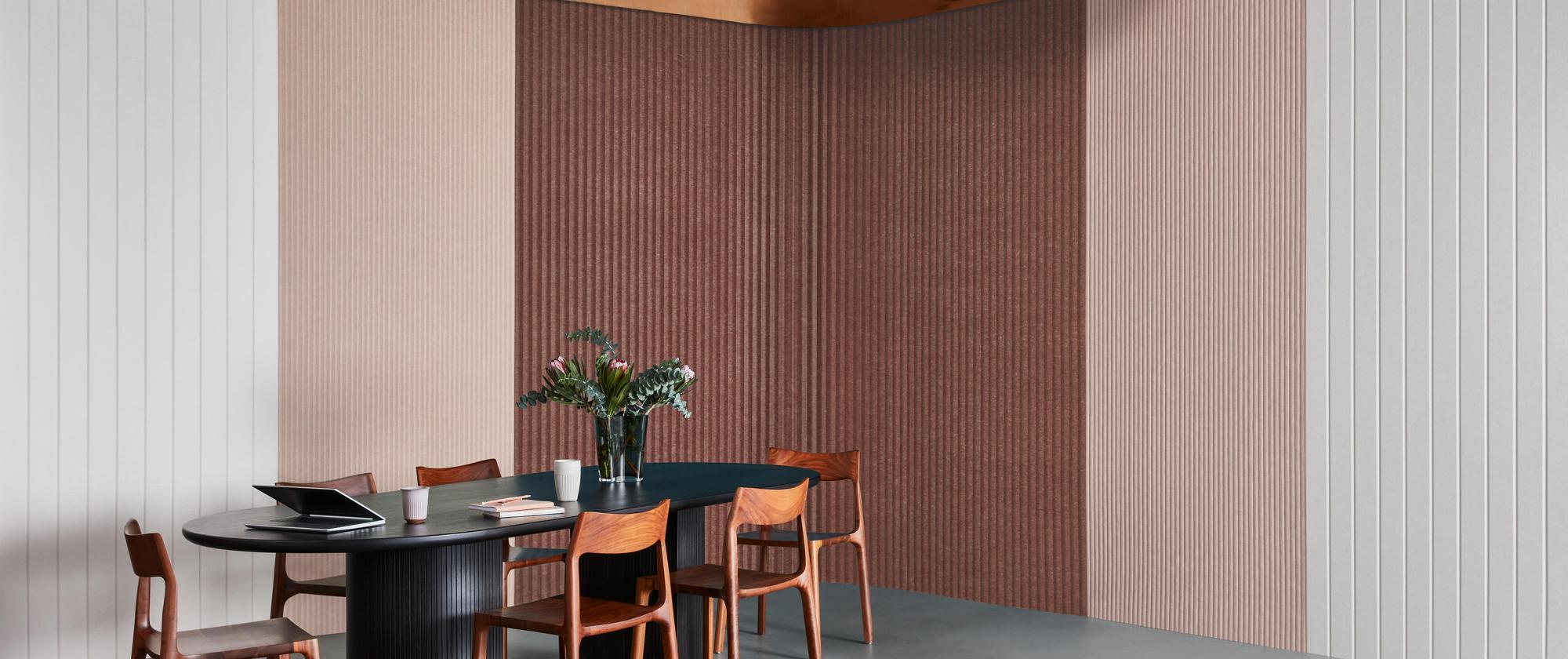 As we become increasingly digitally connected, the allure of the natural landscape calls out as we seek to bring it into our interior spaces. Our nature-inspired colour palette and strong commitment to sustainability advocates these trends. 5 new colours enter the acoustic range while EchoPanel® achieves Carbon Neutral product certification by Climate Active. Alongside the launch of digital prints, customisation opportunities have never been greater. By embracing the ongoing evolution of colour and textural finishes in the built environment, these portfolio refreshments support interior designers and architects to deliver sustainable, acoustic solutions that evoke moods of relaxation and happiness through function and aesthetics.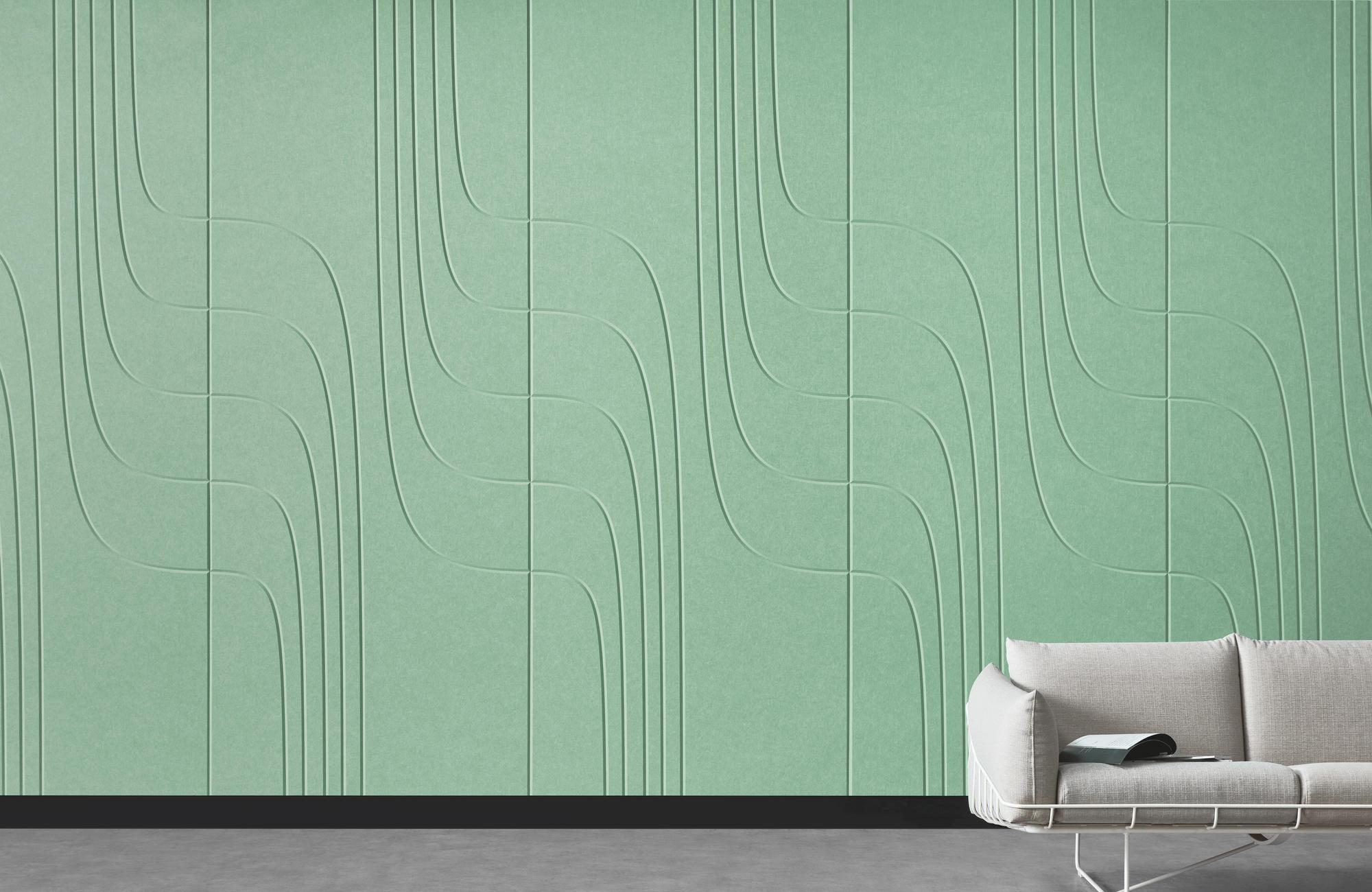 The EchoPanel® 12mm hero colour palette is the anchor which drives this evolution. EchoPanel® remains the benchmark for innovation in sustainable, design-led interior acoustic solutions. As part of the Woven Image 'Digital Spirit' 2023 October product release, 5 new colours of dusk, mint, butter, cayenne and nutmeg have been added to the hero colour palette of 12mm EchoPanel®. The palette extends to the beautiful 12mm precision cut v-groove designs, including Ohm, Longitude, Palace and Empire. As well as the Embossed acoustic panel collection comprising Zen, Pico, Gem and Ion. These textural ranges are ideal finishes for open plan workplaces, learning environments and social settings, incorporating a functional sensorial solution with a contemporary design aesthetic.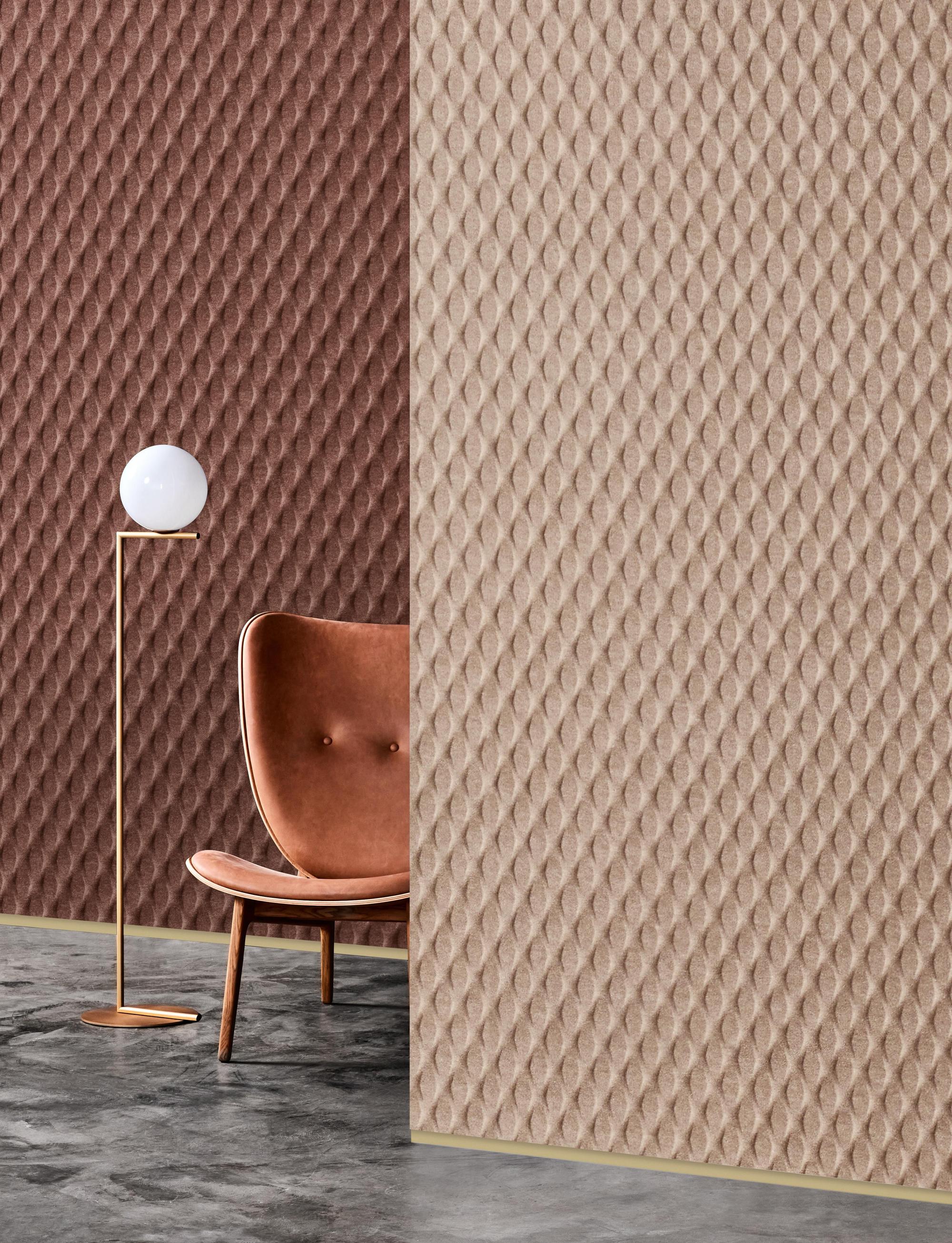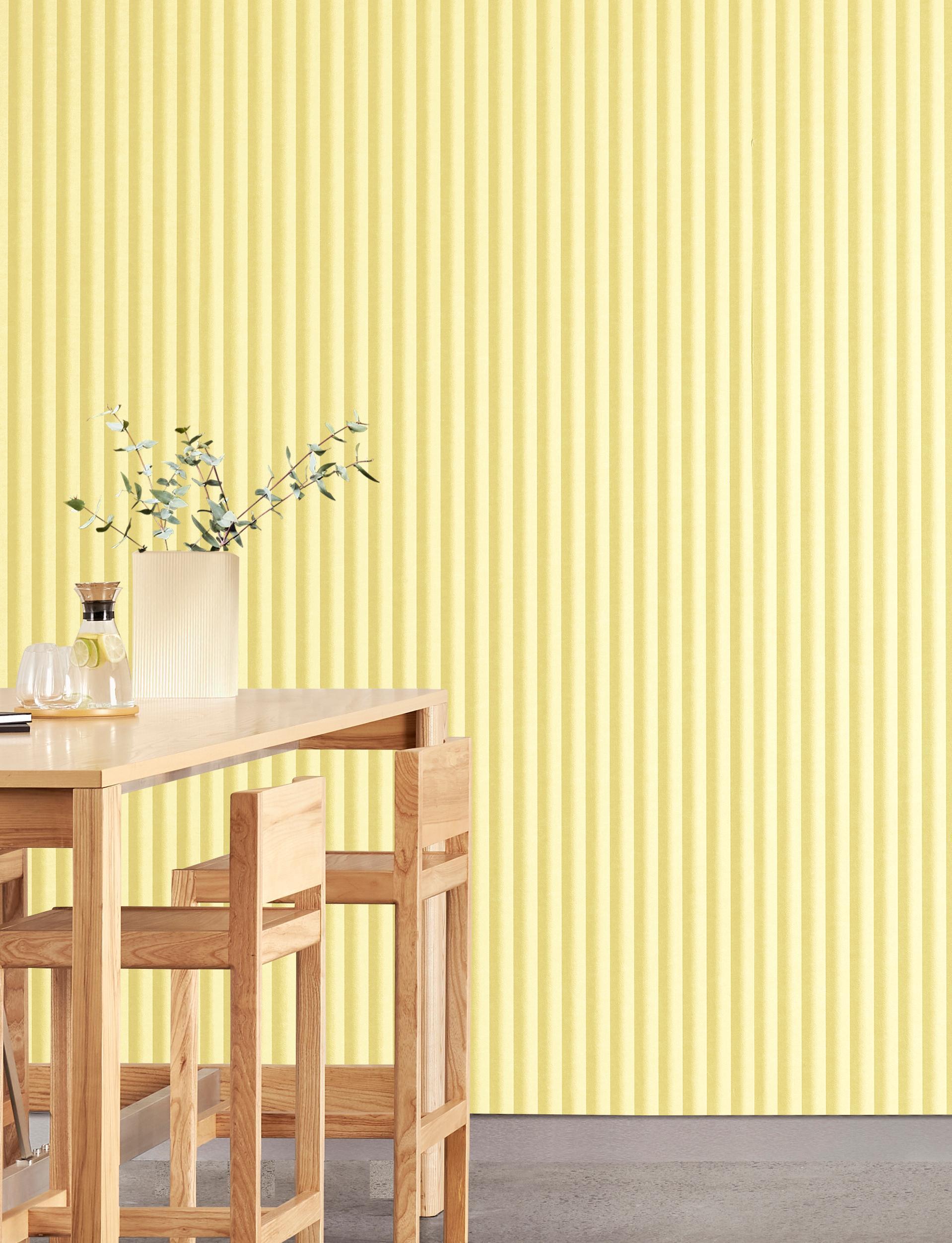 Fuji acoustic ceiling tiles have also received the splash of new colour through custom orders. So too the Array 12mm ceiling baffles become further enhanced with the updated colour palette.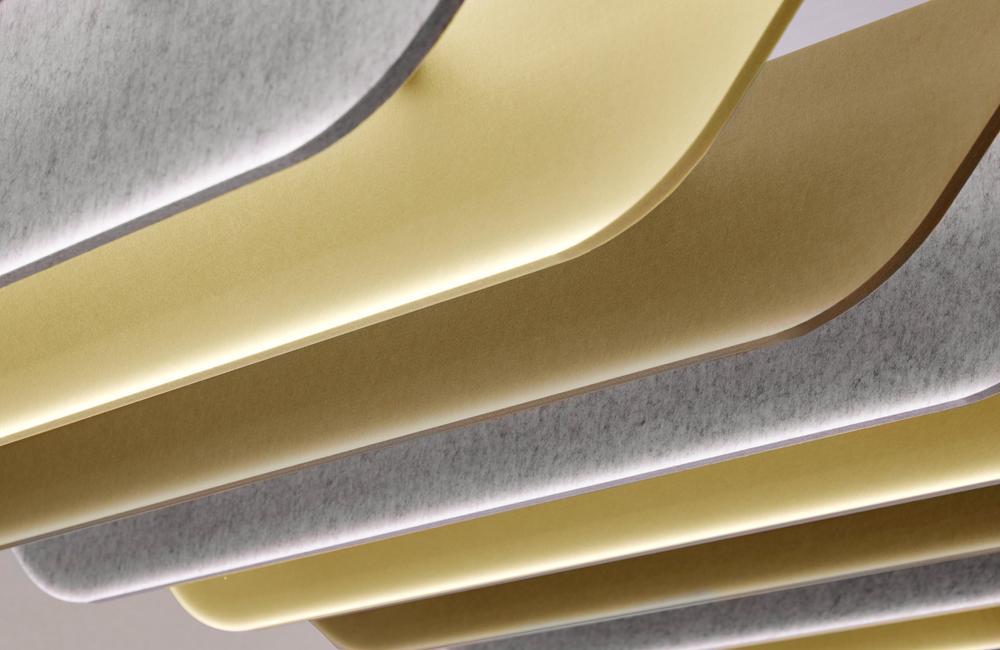 Capturing the ethereal allure of magical sunsets, colour dusk 495 provides a unique hue comprised of a subtle fusion of tones between peach and mauve. Embracing the ongoing evolution of pinkish tones through fashion and textural finishes.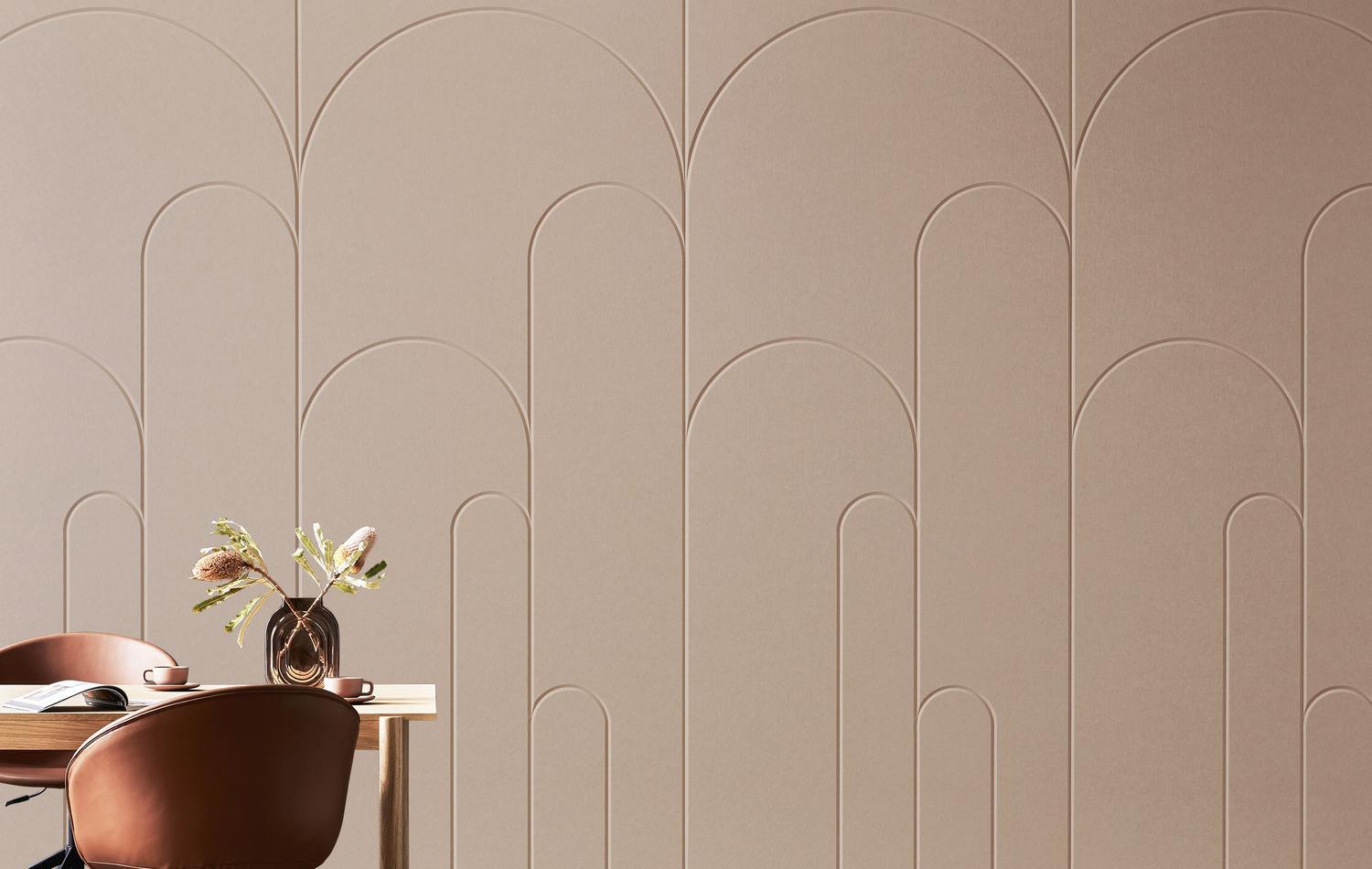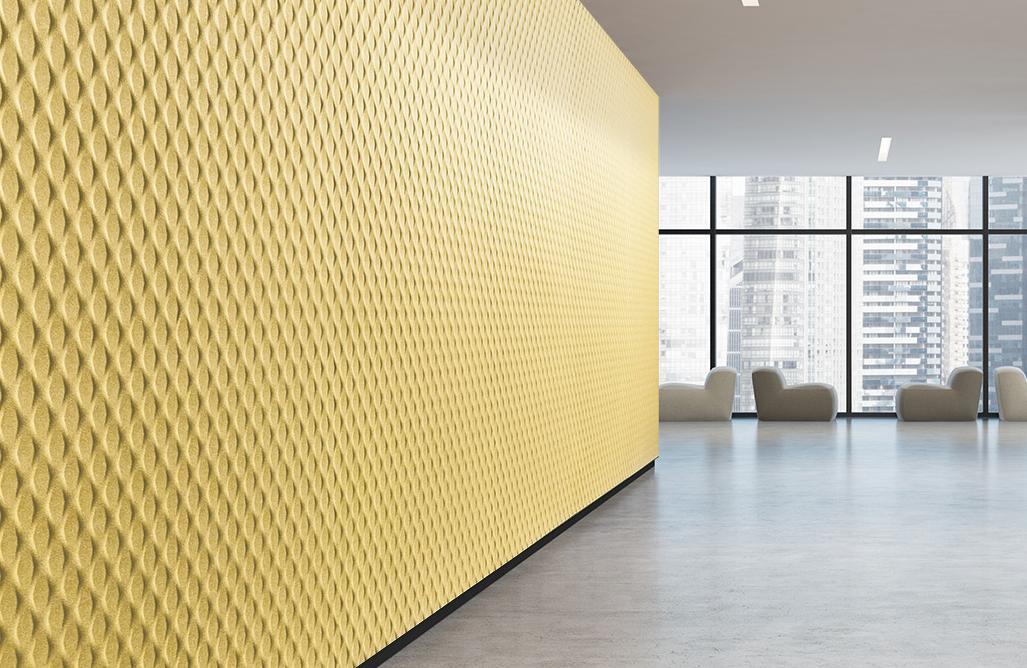 Encapsulating the concept of wellness within workplace, education and healthcare design, the trend for sensory perception unfolds. Happy yellow sunbeams see the introduction of butter 106 to the master palette. This fresh positive hue provides an elegant alternative solution to a traditional neutral palette. When utilised in the Embossed series, this comforting hue creates an unwavering desire to touch and experience these textural surfaces.

Mint 573 captures a fresh juxtaposition of pastel style tones with a glow reminiscent of refractions of light beams from patina style surfaces and translucent tropical waters. Providing a feeling of weightlessness within a space, mint evokes a mood of calm and relaxation.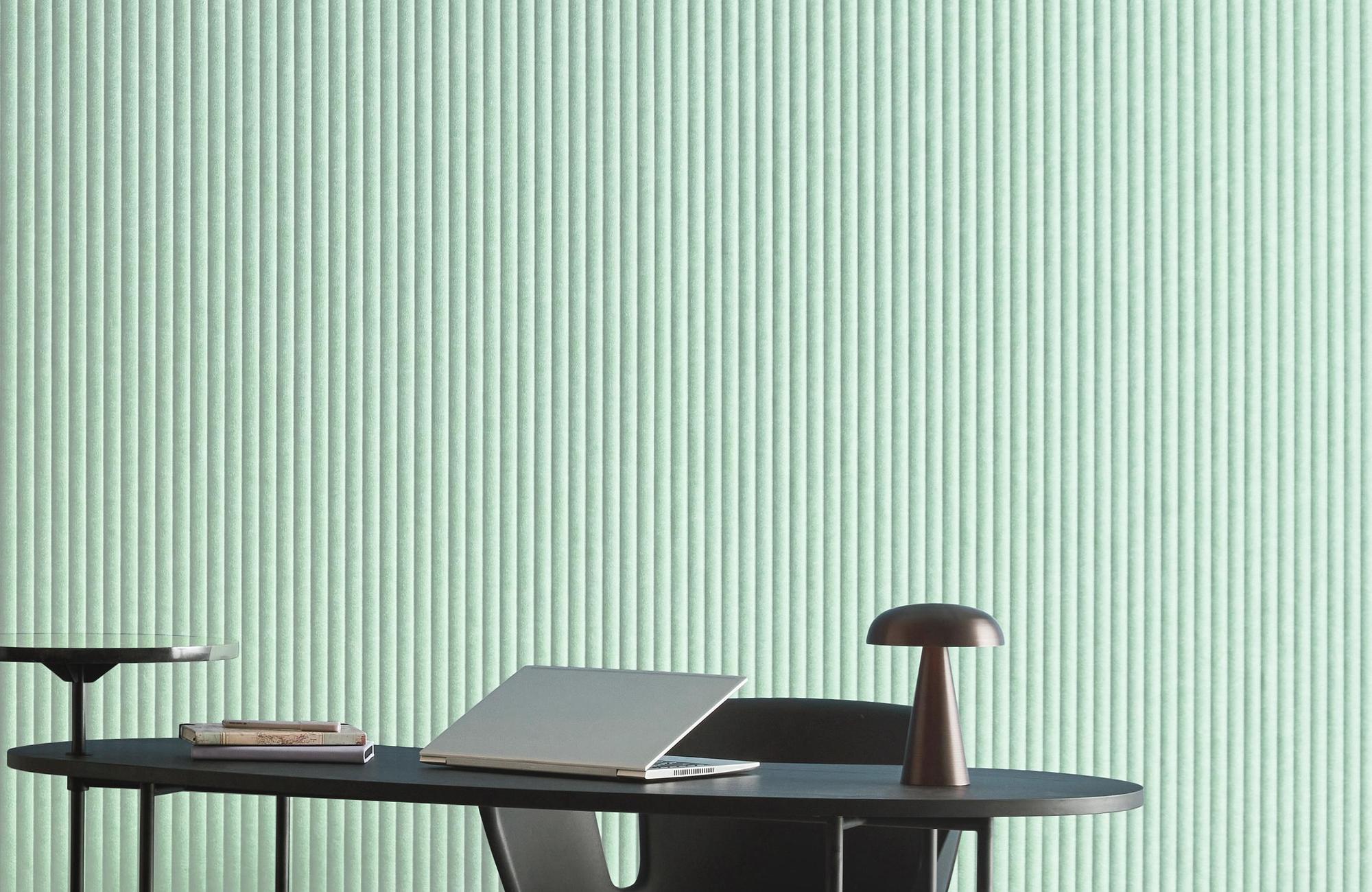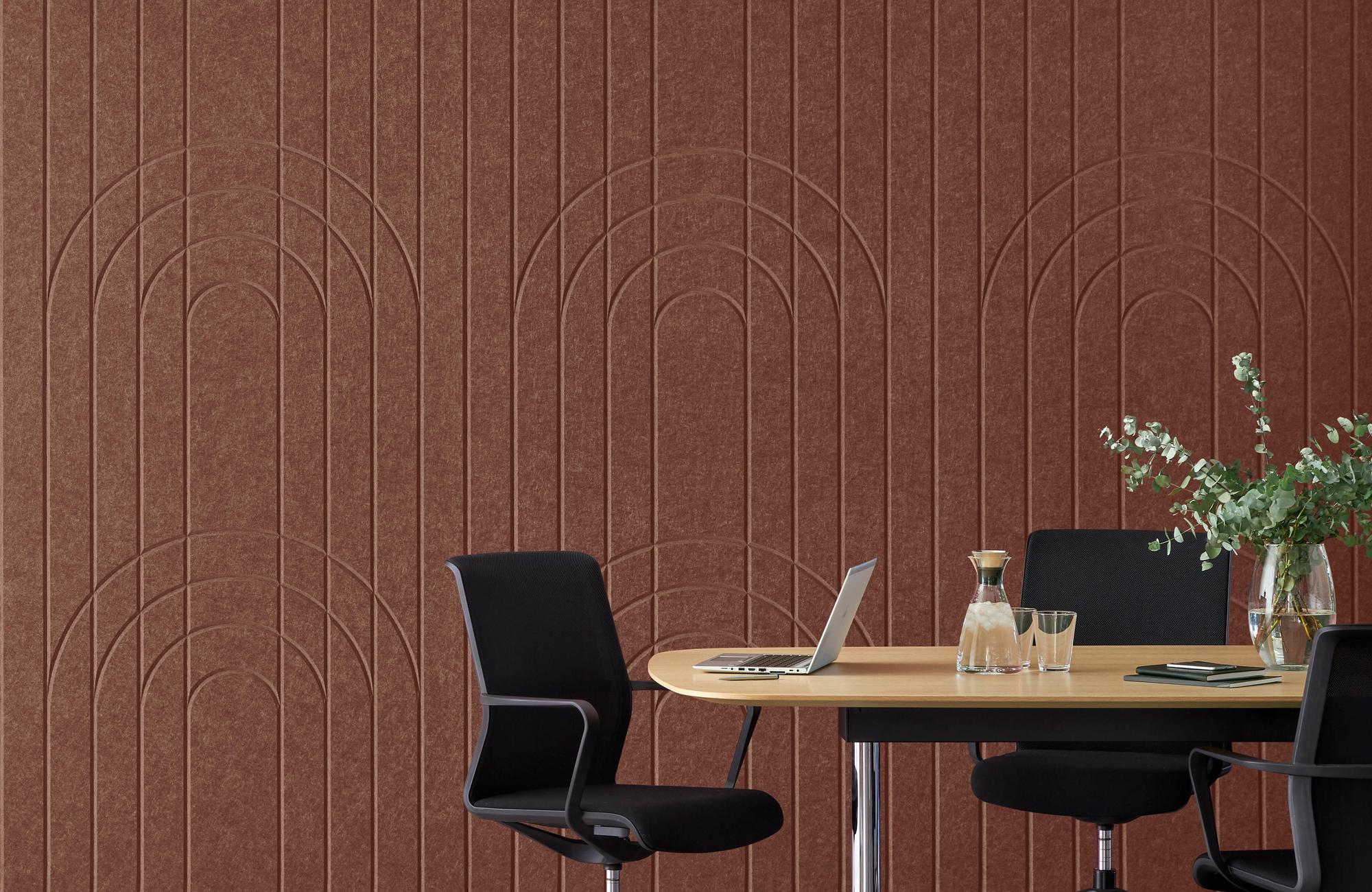 The popularity of browns, chocolates, caramels and wood tone shades preside, as we continue to embrace earthy natural hues. Cayenne 484 supports this trend providing a unique depth of colour with a warm and spicey accent.
Nutmeg 721 completes the earthy palette mimicking a natural oak wood tone whilst providing a rich decadent caramel hue. This versatile mid-tone allows for the creation of acoustically superior cosy interior environments and is easy to specify as an anchor colour to blend with many feature tones such as vineyard, jade, navy and mandarin. Trend colours of orchid, mint and blush provide beautiful colour palette combinations across a nutmeg back drop.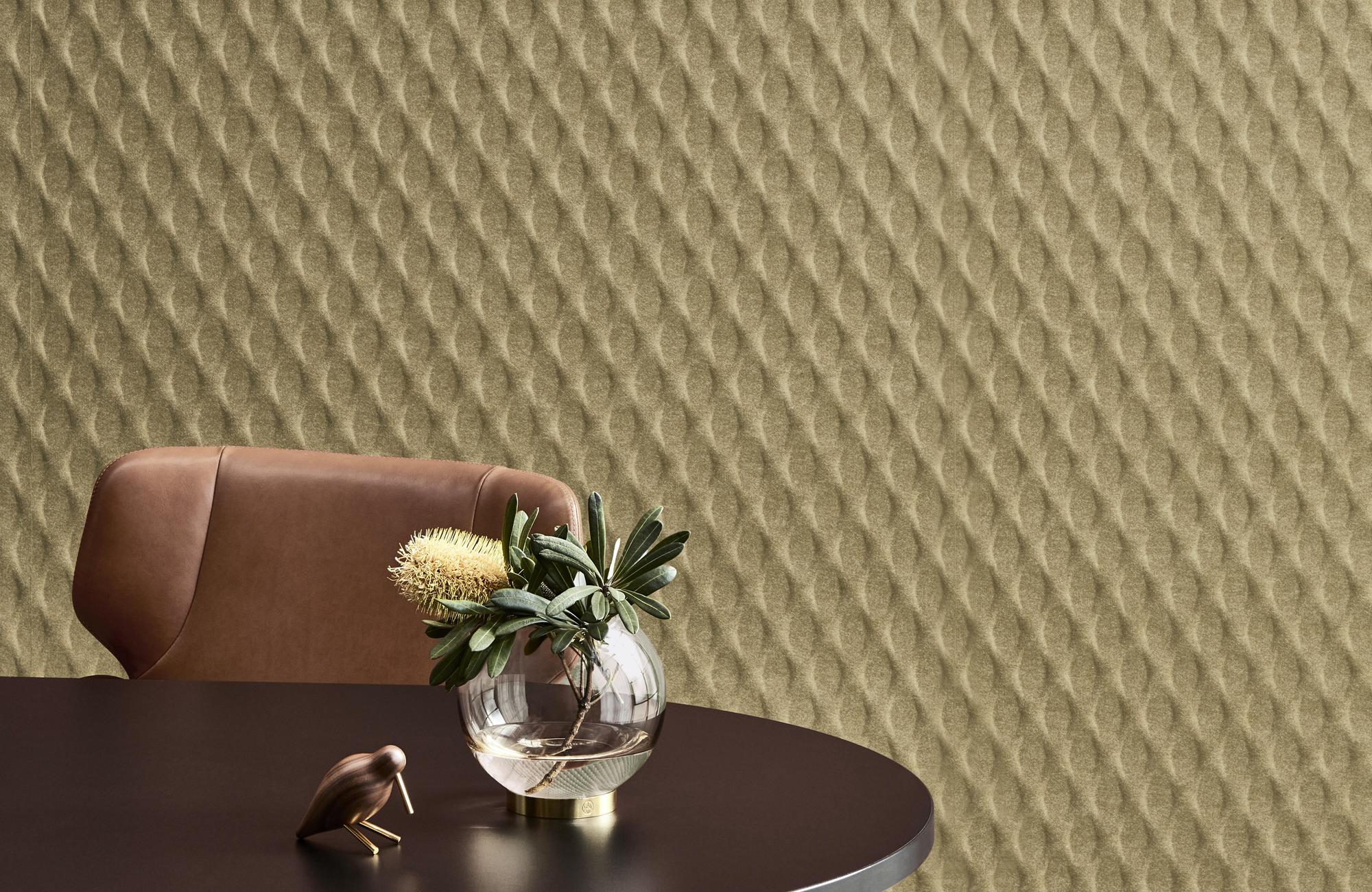 In the 'digital spirit' Woven Image launch their new digital Print Collection. The collection offers a refreshingly modern colour palette, printed on EchoPanel®, with both muted pairings and contrasting tones. Typically seen on workstation screens, this now showcases print designs as large-scale wall installations or partitions, with the option for single or double-sided printing. Digital printing offers specifiers more customisation opportunities, with reduced order minimums and lead times.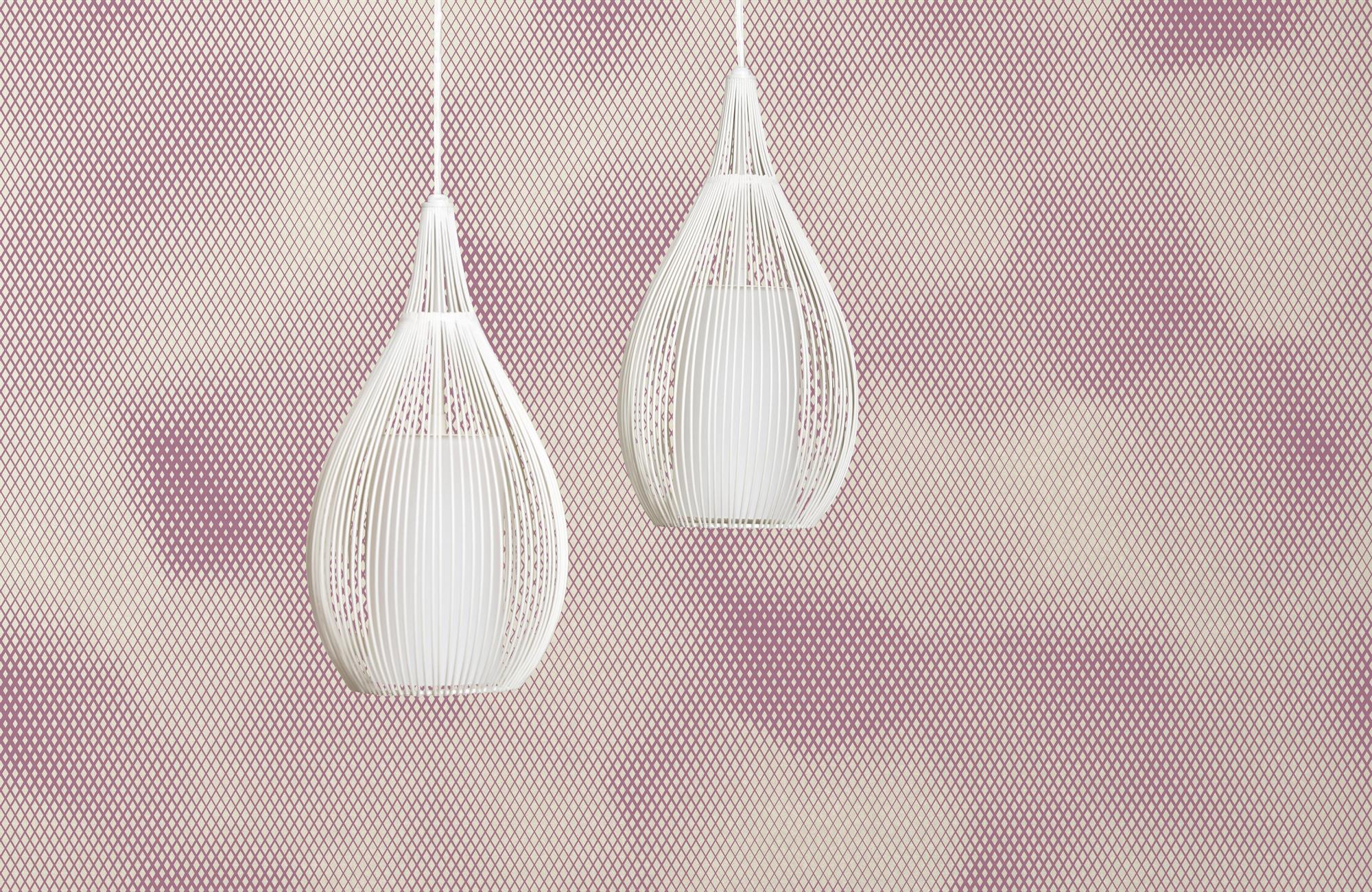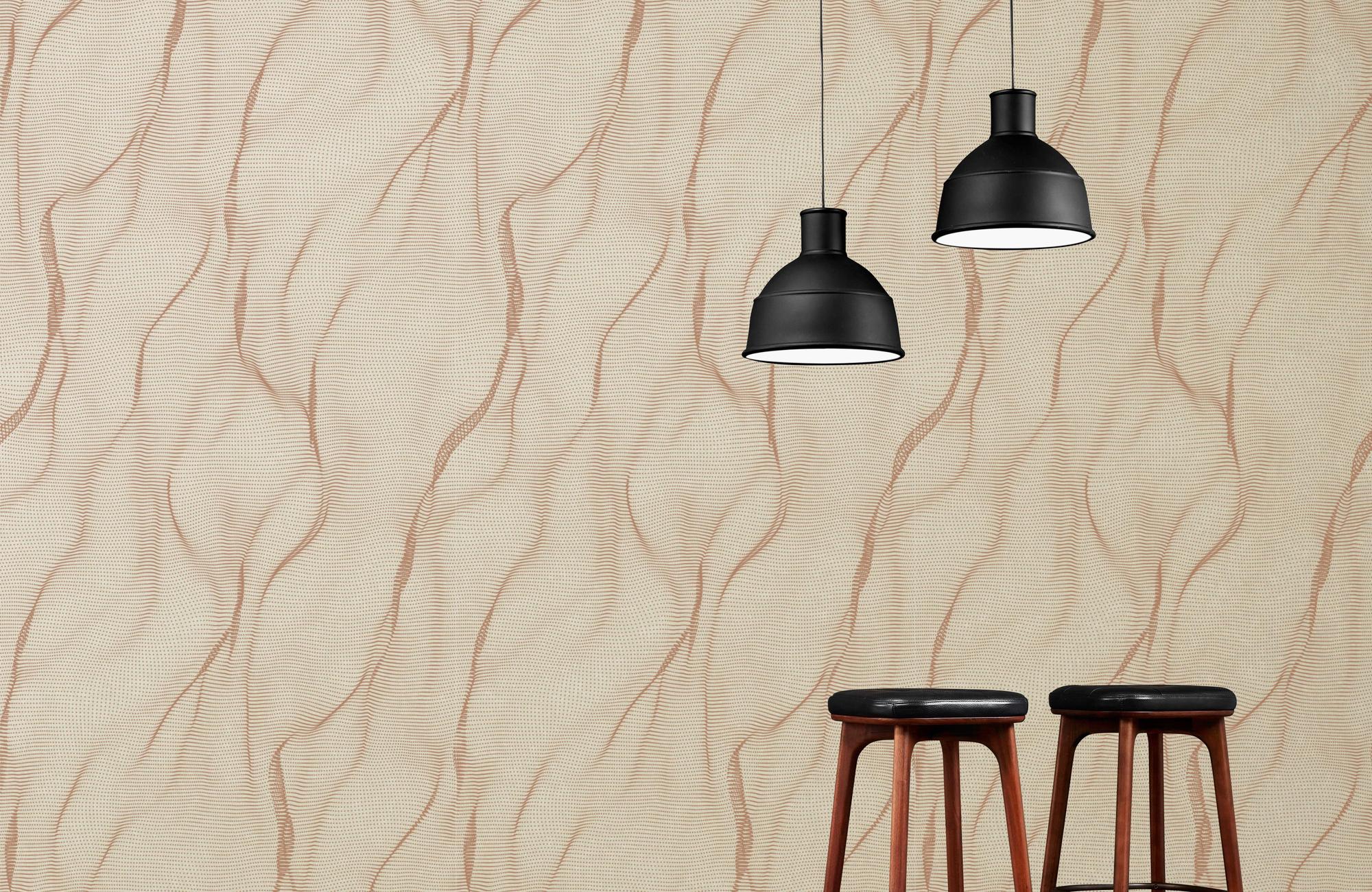 Continuing Woven Image's commitment to sustainability, the EchoPanel® acoustic panel portfolio has achieved certification as a Carbon Neutral Product by Climate Active. Climate Active is a government-backed voluntary initiative providing a rigorous, transparent and science-based way to measure, reduce and offset carbon emissions. Through this partnership, offsetting with Greenfleet and South Pole, and operational investments in renewable solar energy, Woven Image have neutralised EchoPanel® portfolio's carbon emissions from cradle-to-gate, including international distribution.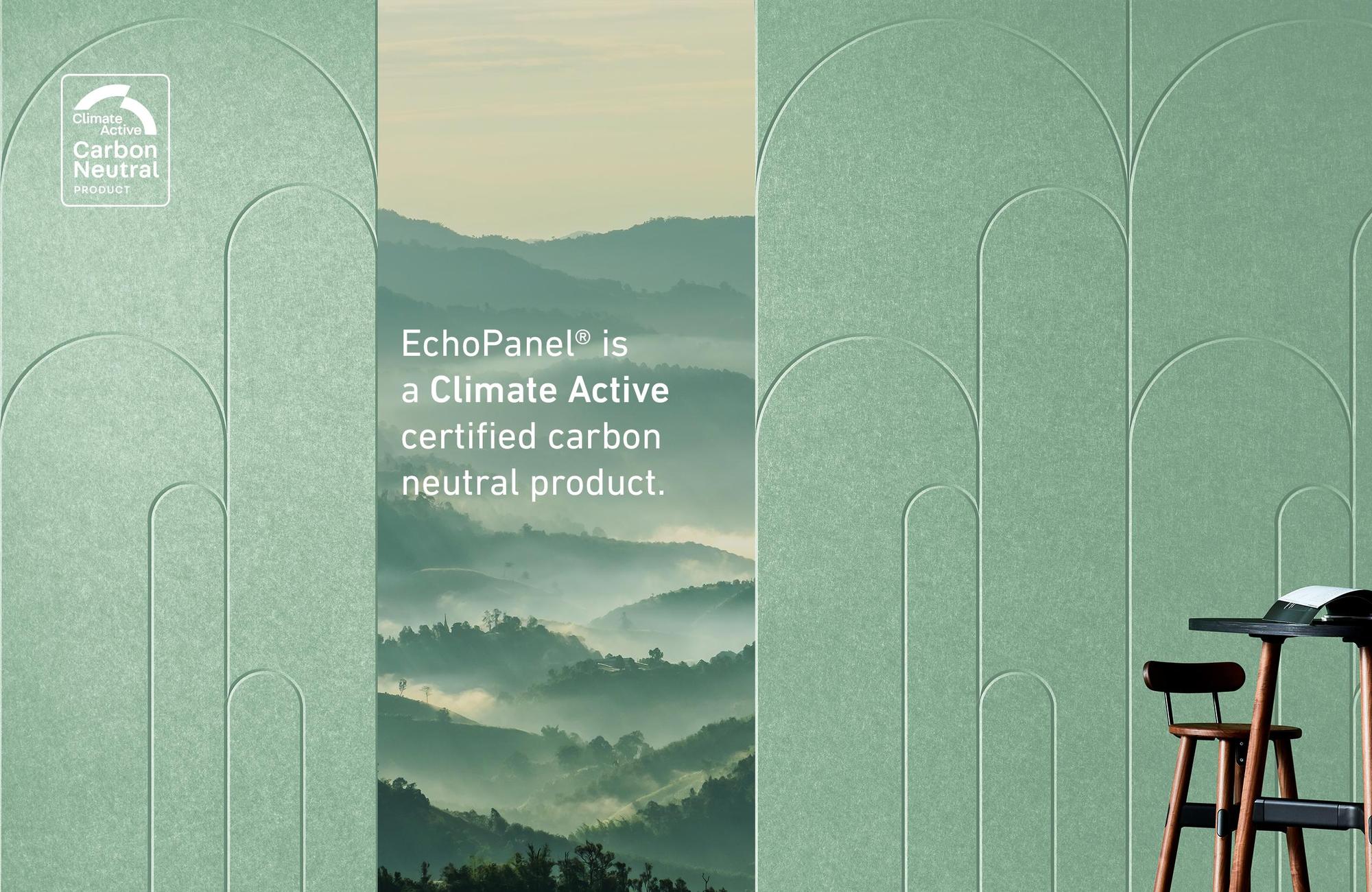 This new collection affirms Woven Image's position as the sustainable choice in supporting acoustically comfortable interior spaces that look, feel and sound great.