EchoPanel® certified Carbon Neutral by Climate Active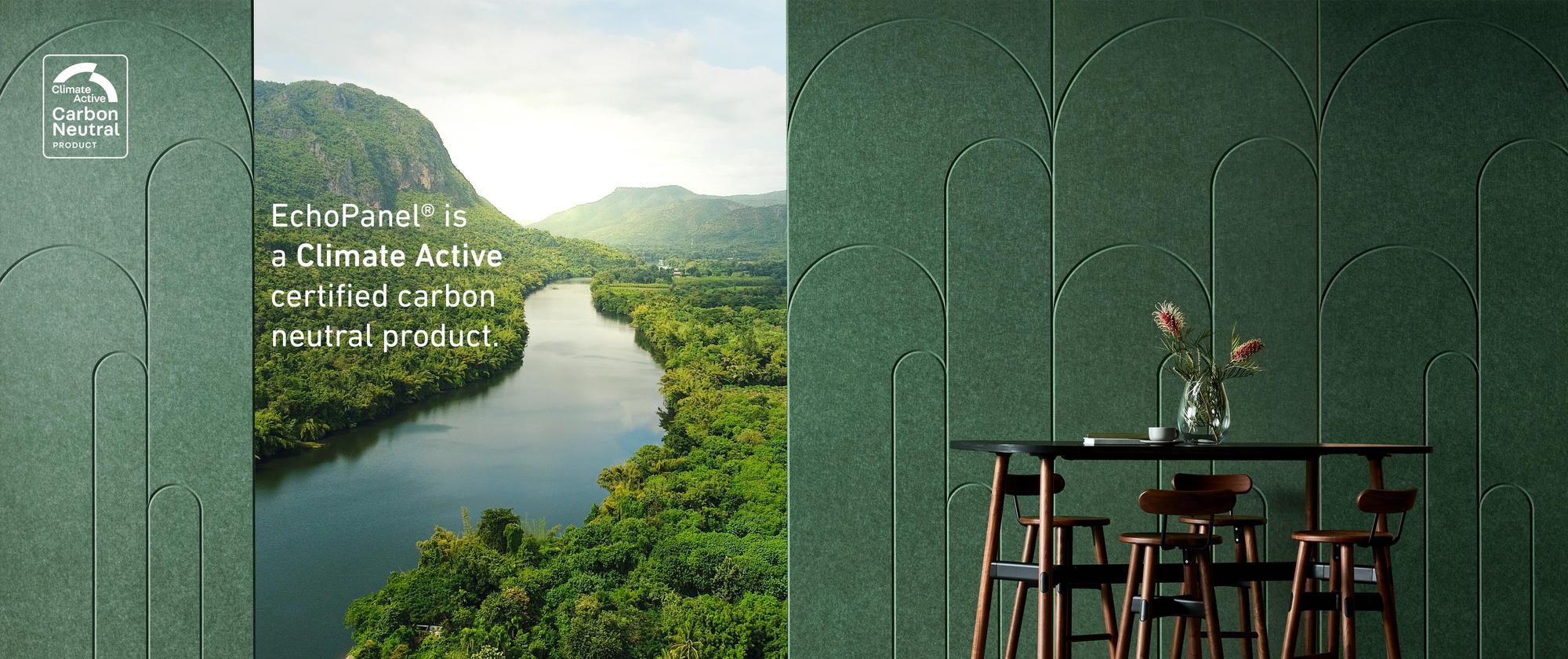 As of 2023, EchoPanel® is certified carbon neutral by Climate Active.
Pioneered and launched back in 2004 as part of our commitment to product stewardship, EchoPanel® is a responsible material design solution for waste minimisation and dematerialisation in commercial interior design. EchoPanel® achieves Global GreenTag™ (GreenRate level A), with the maximum Product Health Declaration™ Platinum Health. EchoPanel® is Red List Free, meaning it is free from the worst materials and chemicals known to pose serious harm to human and environmental health. It has published ingredient transparency with Declare and low VOC emissions.
Our commitment to transparency is demonstrated by the publication of a robust Environmental Product Declaration with information on the material flows and environmental impacts during the lifecycle of EchoPanel®. The EchoPanel® EPD is recognised by International Green Building Tools including WELL™, LEED®, GreenStar® and BREEAM®, helping specifiers to source stringently tested sustainable products with confidence.

EchoPanel® is the original PET acoustic solution which comes in 7mm, 12mm and 24mm thicknesses and precision cut designs, such as Palace and Ohm. It is suitable for a range of commercial interior applications where both good design and acoustic performance are required. These include workstation screens, space dividers and Array ceiling baffles. Made from 100% PET, a minimum of which is 60% post-consumer plastics, recycled to create beautiful and functional design-led sustainable acoustic solutions for architects, interior designers and end-users.

Up to July 2023, a total of 6385 tonnes of PET plastic have been recycled to create the range of acoustic products. This means the equivalent of 319 million plastic drinking bottles have been diverted from waterways and landfill. This also equates to 7 534 tonnes of carbon dioxide – to put that into perspective, that is 150 million balloons worth of carbon that has been prevented from entering the atmosphere. Our research and manufacturing facility also utilises solar energy. With our ongoing attention to product life-cycle management and an increasing global presence, Woven Image understood the importance of delivering responsible product outcomes to its users and society at large, by further reducing the impacts brought about by EchoPanel® development, manufacturing and shipping.
Who is Climate Active?
Climate Active is an Australian Government backed voluntary initiative, providing partners a rigorous, transparent and science-based way to measure, reduce and offset carbon emissions.

What does it mean for EchoPanel® to be 'carbon neutral' and how did we accomplish this?
The Climate Active certification is one of the most rigorous in the world as a highly credible government-backed carbon neutral certification for businesses. It allows specifiers to confidently choose products that are stringently tested and third-party verified in their environmental impact. This certification covers all 7mm, 12mm and 24mm EchoPanel® acoustic panels including 12mm and 24mm precision cut designs. For a product to be carbon neutral, it means action has been taken to reduce and remove as much carbon from the atmosphere as is produced by the product during the various stages of its lifecycle. Part of this was achieved by tripling our solar production, drastically reducing our dependence on fossil-fuel derived grid energy. We now have the capacity to produce an average 340MWh of solar energy ever year. Furthermore, our tree planting commitments with Greenfleet have seen the equivalent of 10 099 trees and shrubs established since 2017 through donations, offsetting 4750.49 tonnes CO2-eq.

However, every product produces an impact, so those activities which cannot be eliminated are offset by carbon credit procurement, supporting projects that aim to reduce and remove emissions, to balance EchoPanel®'s carbon emissions status. Many of these projects provide a wider environmental and social impact beyond reducing carbon.

Woven Image has purchased and retired carbon credits for South Pole projects to offset the EchoPanel® carbon inventory as part of the Climate Active Product certification process. One carbon credit means one tonne of carbon dioxide has been removed or prevented from entering the atmosphere. To ensure high levels of integrity, measurability, additionality and permanence in the sequestered carbon emissions, the carbon credit standards are defined by an internationally recognised carbon standard. For radical transparency, each carbon credit is viewable by the public and has a unique serial number to prevent double counting. Not only this, but each project is unique, receiving a tailored methodology to appropriately measure its impact, subject to panel and public review.

The Global Warming Potential of EchoPanel®, cradle-to-gate, including international distribution, has been neutralised through positive initiatives that increase the environmental health of regions that EchoPanel® has reached. Based on the environmental impact our business has in various regions, Woven Image is supporting multiple South Pole projects, ranging from biodiversity to clean energy industries, in Australia, Thailand, Indonesia, China and the USA.