Colourful acoustics draw a crowd at Workspace Show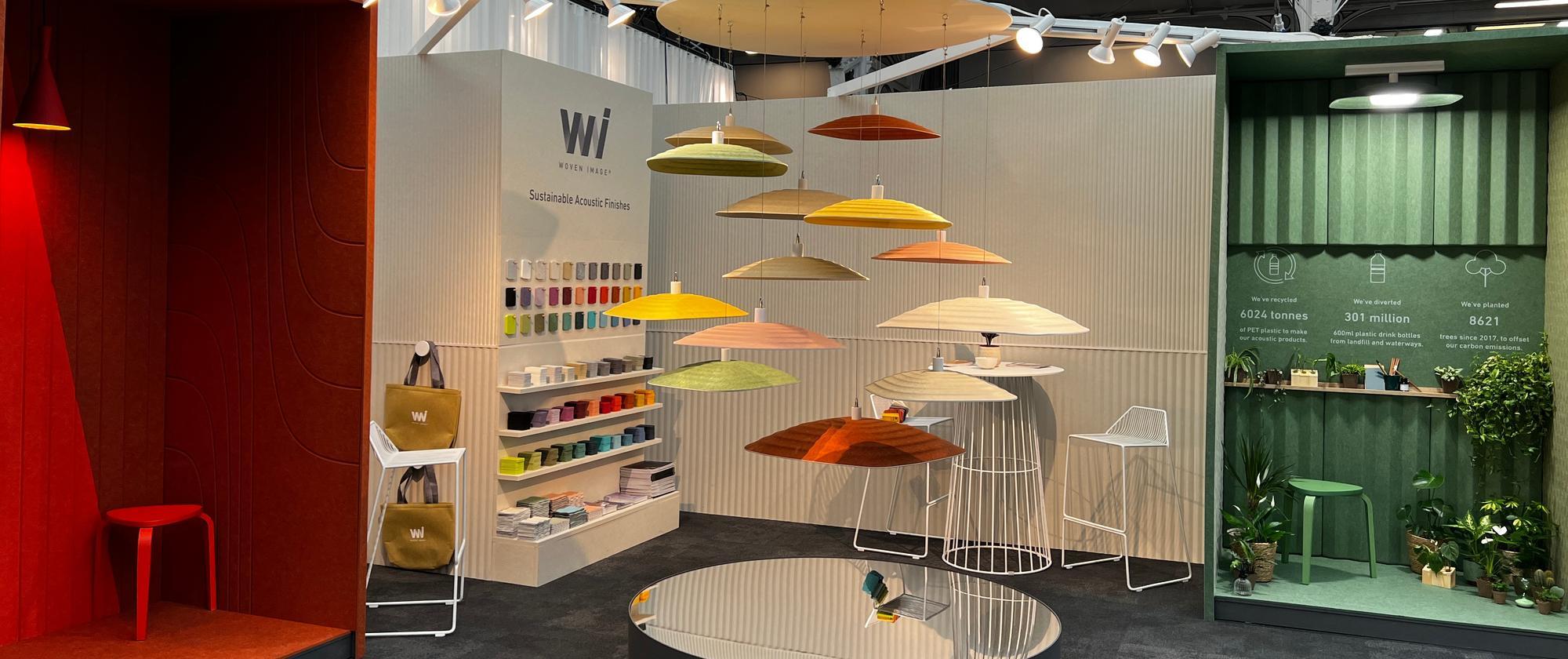 As acoustic sponsor of London's Workspace Design Show 2023, Woven Image presented its latest collection of design-led acoustic solutions to architects, interior designers and end-user occupiers looking for inspiring finishes for the new workplace.
The two-day event brought together the UK's workplace interiors community to explore the experience of tomorrow's workspaces through a series of design talks, networking, and the latest products to transform offices.
The eye-catching stand was designed by Woven Image, in partnership with our UK distribution partner, The Collective. The crowds were drawn in by its central attraction of our newest acoustic ceiling solution, Fuji. The hanging assortment was inspired by a colourful visual of hanging lanterns.
The decorative tiles were suspended in two sizes (Roku and Ku), at varying heights in a captivating arrangement of colours including ochre, cinnamon, blush, vineyard, sage, cream and vanilla. Fuji's outstanding sound absorbing qualities and sustainable design, make it an ideal solution to beautifully transform commercial ceilings while maximising the benefits to both people and the planet. It was the perfect display for the shows central theme of 'workplaces where people want to be.'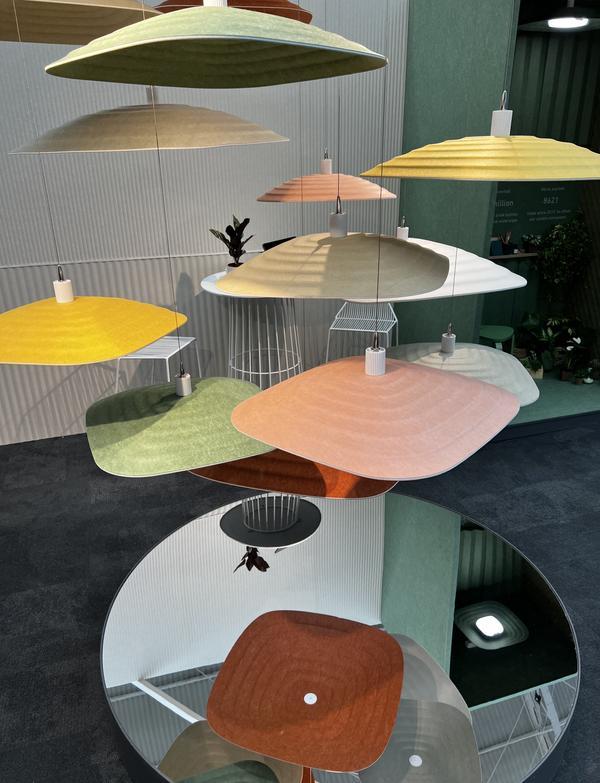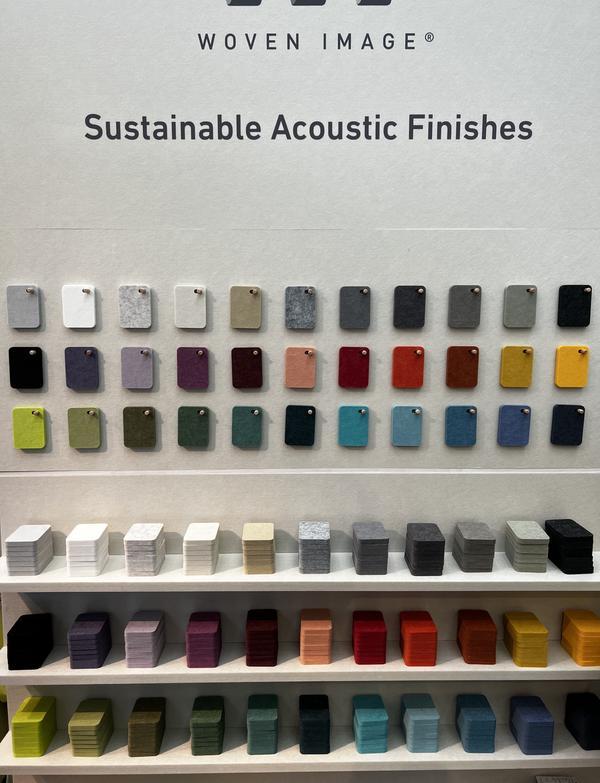 The Woven Image colour story was deeply loved by visitors and continues to set us apart. Woven Image always seeks to offer a wide variety of colour options, frequently adding new colours in line with trends and creating custom colours to bring clients projects to fruition.
Another standout feature were two "experience pods" in cinnamon and sage colours. As we hoped, our visitors enjoyed entering the pods and many remarked on how noticeable the acoustic difference was inside the pod compared to outside. The sudden peace and quiet in a busy show was a pleasant experience granted by the acoustic wall panels and their exceptional ability to reduce sound reverberation. The cinnamon and mandarin coloured pod featured EchoPanel® 12mm, EchoPanel® Empire, EchoPanel® Longitude and EchoPanel® Ohm. The main back piece was two colours of EchoPanel® Longitude panels precision cut and combined to give an accentuated appearance of lighting in the pod.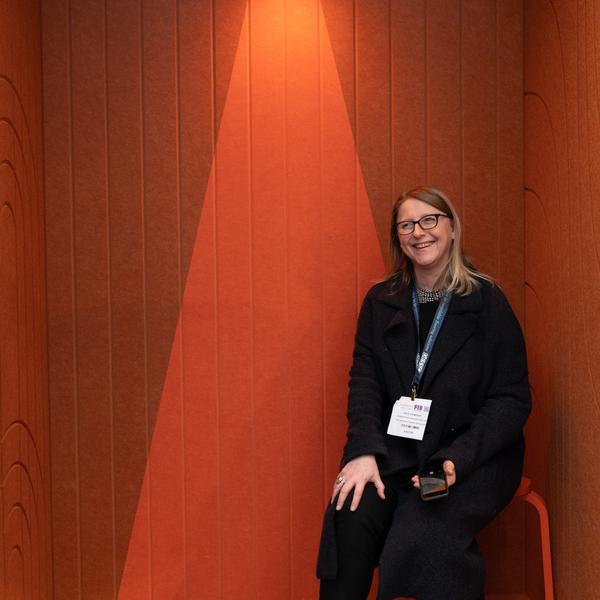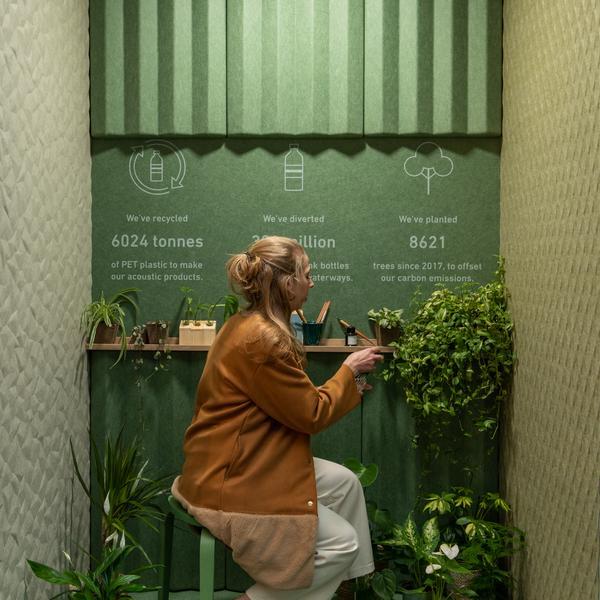 Likewise, in a monochrome appearance, the second experience pod was green themed, showcasing our sage, vineyard and olive colours. Sustainability, as a core part of Woven Image, was a key theme in this pod. Our most up to date sustainability statistics were displayed, which you can find on our Sustainability page.
Woven Image's, EchoPanel®, was also heavily used in The 'Change by Design' Lounge area designed by BDP for The Furniture Practice. The space questioned the impact of workplace design on the natural environment, demonstrated in a dramatic lounge and talks area that illustrated how recycled, reused and biomaterials in design projects can shape a low-carbon future.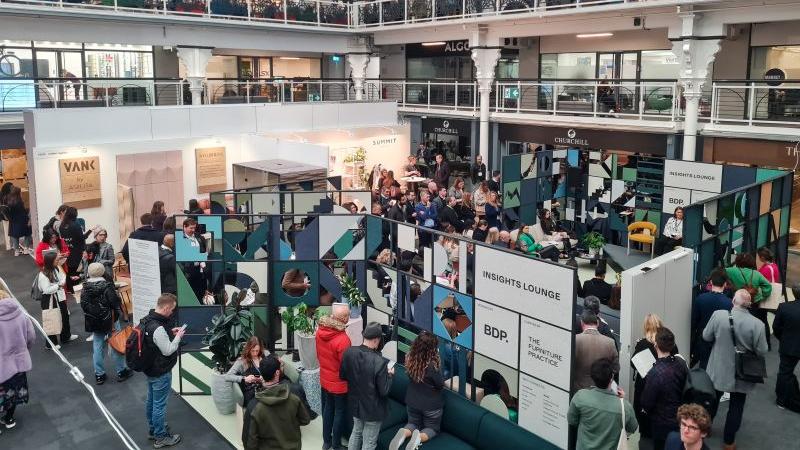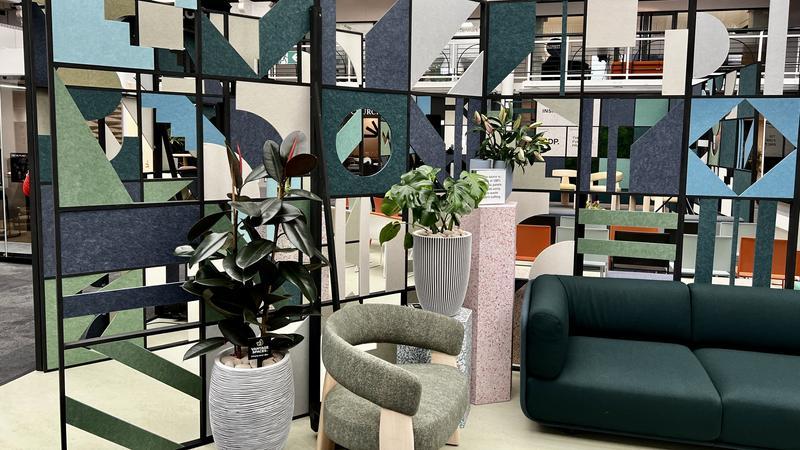 The lounge area was constructed from bespoke metal frames filled strictly from EchoPanel® PET off-cuts supplied by our UK distributor, The Collective. The installation was directed by the shapes and colours of the raw material that were available at the point of production, a truly intuitive design that had everyone thinking on their feet and embracing zero-waste thinking.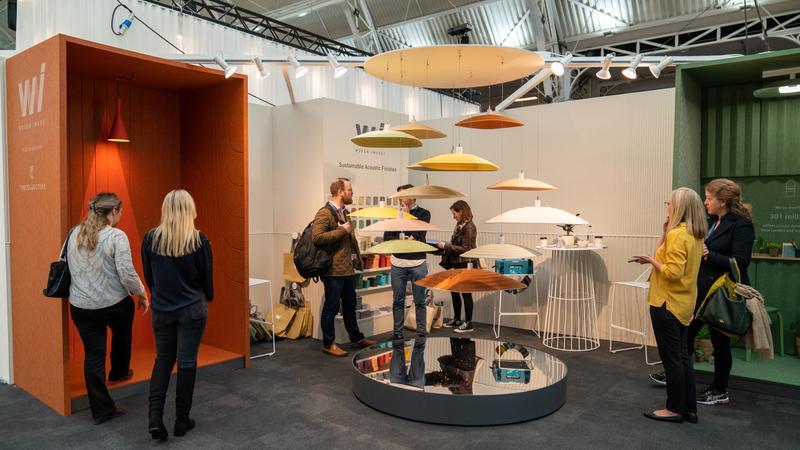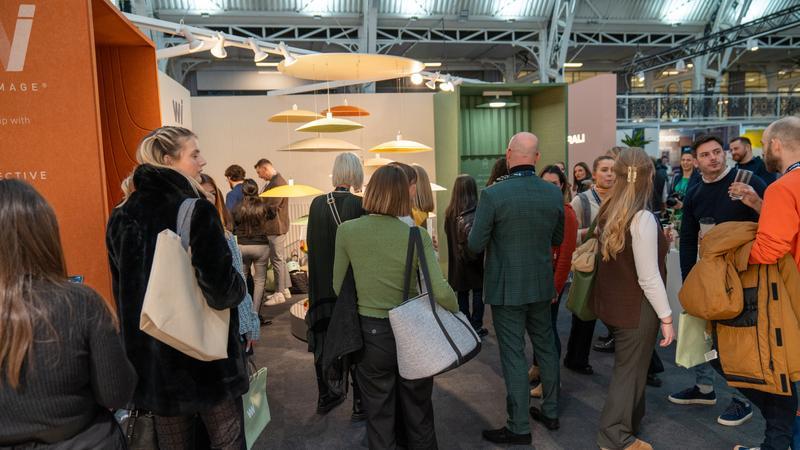 Overall, the show saw over 3,400 attendees coming from 21 countries, attending 35 thought-leading panel discussions and immersing in marketing-leading solutions for the future of workspace design. It was such a pleasure to be a part of the event, that we'll be back in October 2023 for Workspace Design Show in Amsterdam! Follow us on Instagram and LinkedIn for updates.