Ceiling acoustics for Christian College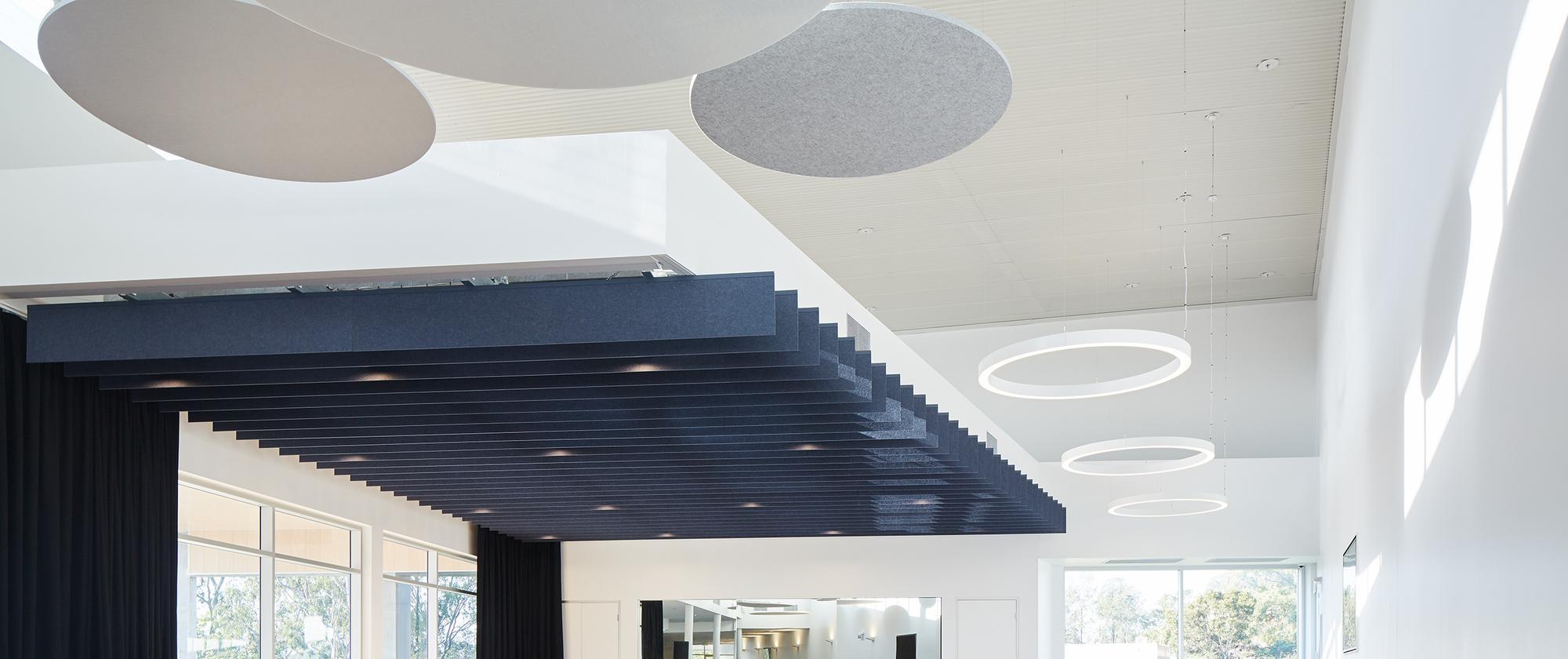 Project Information
Location: Queensland, Australia
Designer: Phillips Smith Conwell
Installer: Cre8 Sound + Design & Herron Coorey Building Contractors
Products used: EchoPanel® custom discs and baffles
Date: 2019
Photography: Hayley Humphrey
Westside Christian College is focused on providing high quality Christian education in an environment that nurtures and inspires. Operating out of demountable buildings for many years, the Westside Christian College space was challenged by high levels of growth. Accommodating student numbers and meeting the collaborative needs of their creative industries program, drove architect Phillips Smith Conwell to design new facilities that would timelessly support growth, and assist students to excel in creative collaboration across a range of disciplines.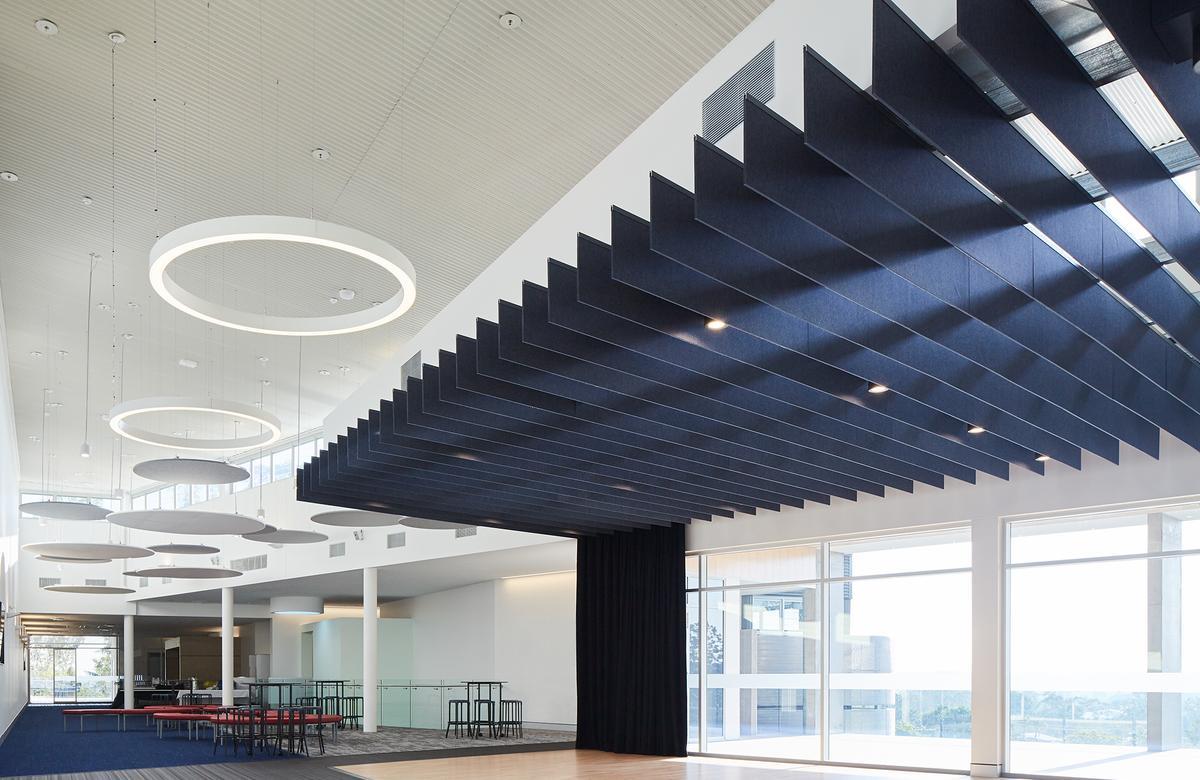 "By blurring the lines between the creative mediums, we were able to create a unified experience that gave students ownership of the space to expand their creative expression."
(Phillips Smith Conwell)
Westside chose EchoPanel® in navy to design custom ceiling baffles, to provide a timeless and supportive setting. Being an education centre for children, noise levels are often high. As a 3D acoustic absorber, EchoPanel® is an ideal solution to reduce hard surface noise reverberation and create a quieter, more nurturing atmosphere. The resulting acoustic control assisted Westside to achieve an environment that widely supports concentration and holistic education.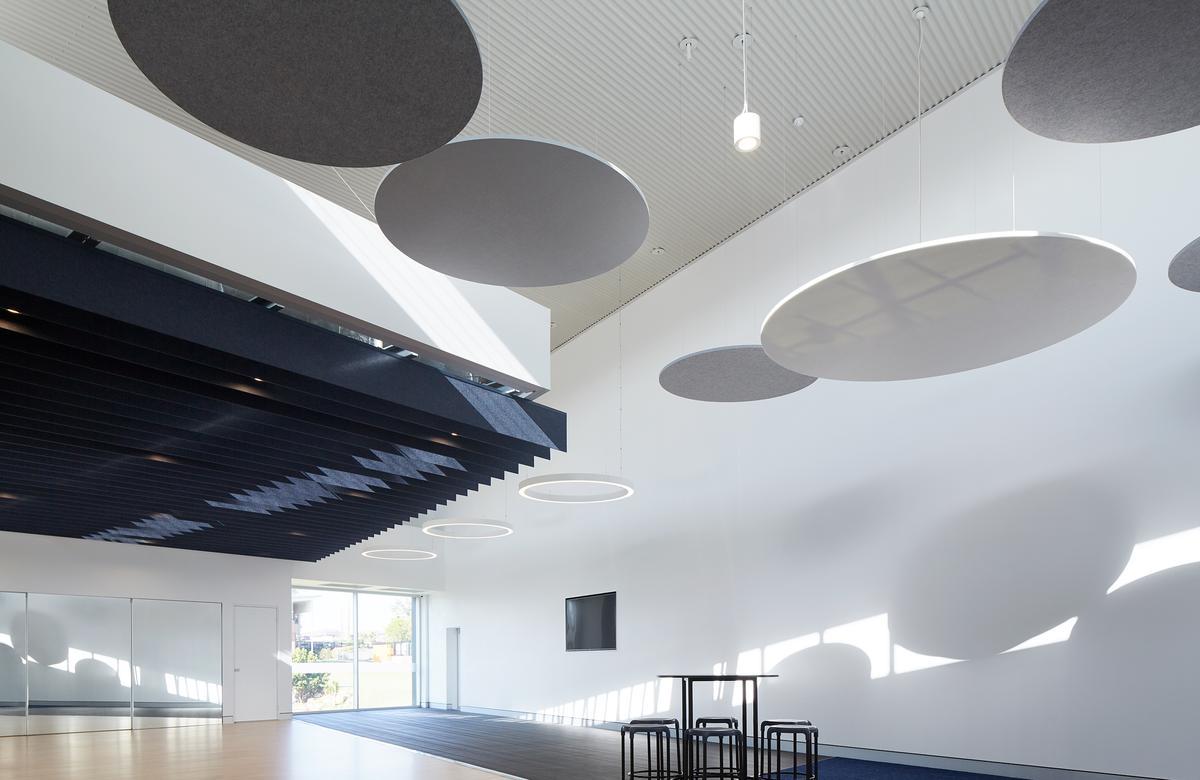 Alongside the hero ceiling solution are suspended custom cut EchoPanel® discs. These ceiling acoustic solutions worked seamlessly with the halo lighting. Overall, they provide extra visual and acoustic benefit, supporting the total educational experience, just like that of a university.
Westside Christian College, accolades:
2019 LEAQ Commendation – New Construction/New Individual Facility (or Facilities) under $8m
2020 AIA Regional Winner – Interior Architecture
2020 AIA Regional Commendation – Educational Architecture
Woven Image offers a range of design driven acoustic solutions for walls and ceilings, as well as bespoke options for custom designs. Westside used a combination of standard and custom ceiling products to achieve acoustic comfort with a refined coordinated design.